Scaling new heights
Bach Moc Luong Tu – 30 October to 02 November
The trip to Bach Moc Luong Tu was much discussed during our preparations for the expedition. The area is little known to people outside the region and its highest peak was measured for the first time only four years ago. It may have come as a surprise to some in 2012 when the mountain range was declared the fourth largest in Vietnam at 3,045 m. It was speculated by members of our group that only a handful of botanist have visited the montane landscapes on the western perimeter of the Lao Cai province and there was much potential for a rich diversity of plants. During the final preparations for the trip it became obvious that there was a sense of excitement at the prospect of surveying rarely explored forests and new discoveries. As we threw our final bags, chickens and other essentials into the back of the van we all were looking forward to an exciting, yet challenging, four days in the field.
Sunday is market day in Vietnam, so as we headed into the hills each of the towns and villages we passed through were hives of activities, rich in colours, sounds and smells from the woks (…and livestock). The only thing that was dampening the market goers spirits was the driving rain and thick fog. Each mountain pass that our driver skilfully negotiated would have framed some spectacular views across the Hoang Lien Son mountains had it not been for the atrocious conditions. As the gradient increased and the bus slowed you could occasionally see figures walking along the sides of the road through the dense fog, usually with cut sugar canes in hand.
As I dozed in the back of the van, I was suddenly awoken when we jolted then stopped in a small hamlet on a steep mountainside. A thorough discussion between our driver, members of our party and villagers had been initiated. I, and my fellow horticulturalists from the UK didn't fully comprehend why we had stopped at this point, due to our limited understand of Vietnamese, Hmong or the the expressive hand gestures being used. We later came to understand that the road was deemed unsuitable for the van and that we were walking. And it wasn't going to be a short walk either.
The high humidity made our jaunt to the starting point of our ascent in the Ky Quan San village a hot and sweaty affair. As much as we enjoyed observing the cannas, bananas and rice that was growing in the fields, we were losing both energy and time. The initial trail was punishingly steep. We tried to stay together but it soon became apparent that, even at this early stage, that the walk was going to difficult. Alex and I, who were trying to keep a good pace at the front, were starting to observe some new plants, previously unseen during expedition so far.
By 1,500 m we were starting to see Gelsemium, a plant rarely used in cultivation but well known to our Vietnamese colleagues due to its poisonous properties. After a further 150 m of climbing we were starting to see the vegetation change, the cooler mountain air was helping to support a lush mixture of herbaceous perennials, trees, and to my delight, tree ferns. It may come as no surprise but as our attentions turned to the plants around us, our sense of direction and timekeeping became secondary. After a slight detour (approximately 2 km) we got back on track and hiked for a further 5 hours, arriving at our camp just before dark.
The following morning we woke at first light and the peak of Bach Moc Luong Tu was clear, a good sign for the day ahead. I have come to learn however that such clear views are rare in northern Vietnam and by the time we had finished our morning bowl of fried rice, the clouds had rolled in and the peak was barely visible. The initial stage of our ascent to the peak was dominated by a landscape of wintergreen (Gaultheria sp.), bamboo (Sinarundinaria sp.), rhododendrons and the occasional Schefflera sp. standing tall amongst the dense thickets. The highly degraded landscape was characterised by the remains of burnt out mature trees. There were obvious signs of fire damage and forest clearing, a concerning sight in such a biodiversity rich area. When we did reach the fragmented sections of forest, there was much to see. I have included some highlights from this section below:
Once we had arisen out from the clouds the landscape changed once more. The moist soils of the forest seen previous were no replaced by a dry and sparse landscape hosting species with alpine-like tendencies. We again came across many interesting plants by meticulously surveying the paths and areas adjacent to them. Sometimes however, the best finds come at the most unexpected times. After taking a well deserved chocolate and water break the tired silence was broken by Alex exclaiming 'Oh look, a Rhododendron Richard'. We had become well used to seeing Richard in the bushes inspecting a Rhododendron at close quarters by this point in the trip, but this time he seemed particularly excited. The aforementioned specimen turned out to be a species which had the characteristics of the subsection Edgeworthii, a type of Rhododendron previously unrecorded in Vietnam. Further verification will be required at RBGE upon our return but an exciting find nonetheless!
By the time we had reached an elevation of 2,900 m the day was getting late and we had made the decision to turn back. The decision was prompted not only by time but also the poor condition of the summit. Once more, fire damage and suspected human intervention had resulted in a landscape dominated by primary vegetation such as thick stands of bamboo and, the admittedly very ornamental, Rubus lineatus.
During our final days on Bach Moc Luong Tu we stayed at or below the elevation of 2,000 m. In some wet and slippery conditions we were able to navigated through the forest fragments and add to or collections. Some of the plants we encountered are included below:
It was a privilege for our party to be some of the few to explore the Bach Moc Luong Tu range, the natural beauty of the area is undeniable. Further botanical surveys in subsequent springs and autumns would uncover further diversity and new discoveries, I am sure. We were successful in collecting a good sample of the flora and those plants, herbarium specimens and DNA samples will be an asset in years to come, particularly if habitat fragmentation continues at its current rate. The trip was a positive one, but there were many reminders that Vietnam's flora and fauna are vulnerable and we should continue to work with our colleagues in the country to support conservation.
By Will Ritchie
Nhiu Co San – 'The mountain in the cloud' (25th – 28th Oct)
A loaded mini-van with four days supplies, local porters and our Vietnamese colleagues hailed the begininning of our next four day expedition into the Hoang Lien Range. This time our destination was the district of Y Ti and Nhiu Co San, a mountain which has only recently been explored and documented. It took two hours, and a tyre blow out, to get to the village and paddy fields which edge the trail into the forest of Nhiu Co San. This location is near the border with China and we picked-up further porters and guides, from the local Hani population who were familiar with this area.
After a hearty lunch we hit the trail and immediately the paddy fields gave way to a boggy forest dominated by magnolias and Hamamelidaceae (witch-hazel family). Any gaps between trees were laced with the webs of large spiders colourfully adorned and carfully avoided. It was here that we found Uocodendron whartonii (Hamamelidaceae) a taxa new to science and one we plan to explore further on our return. The weather was also quick to turn and we were lashed with rain as we entered the forest proper. The lower reaches were a mixture of old growth, saplings and cardamom. By the time we arrived at our camp our collecting bag and presses contained the seeds and specimens of much new material, including maples, a birch, magnolias, ferns and a range of Gesneriaceae.
The next morning brought a welcome break to the rain and we began to ascend steadily following a water pipe deep into the forest. Massive trees rose to form a broken canopy 40 metres above our heads, their trunks and limbs dripping with epiphytes and ferns. As usual our pace was slow, punctuated by collecting and a routine of data recording that accompanies this process. The porters marched ahead laden with all the food and tents, navigating the forest with the dexterity of mountain goats. Our accommodation for the coming two nights, tents beneath a giant Tsuga dumosa (Himalayan hemlock) and a cardamom shack in which all the food was prepared and cooked.
We struck out for the summit of Nhiu Co San on the third day and this was by far the hardest trek so far, the path was steep and treacherous, but our spirits remained buoyant with the many new collections we were able to make. As we neared the summit the forest became stunted and patchy with mosaics of open low vegetation. Here we collected Rhododendron species, lilies and an Allium (onion) which Du reckons might be new to science. The views were stunning into the valley below and cloud draped over us and disappeared as quickly as it had arrived. The summit (approx. 2700m) proved a step to far and after deliberation we decided it wasn't worth risking the last 50m as it was too unsafe.
Our return journey was much faster as we made few collections and after a stop over at our second camp, we returned to the village the paddy field at the edge of the forest and left 'the mountain in the cloud' to its enigmatic slumber.
To the heights of Fansipan (20th – 23rd Oct)
A clear view to the summit of Fansipan, the tallest mountain in Indochina at 3143 m prepared us for our first four day trip into the field. We took the recently constructed cable car to the summit and this gave us a flavour of the mountain's floral offerings, rice terraces filled the lower valley and forest clothed its steeper gradients and gullies. As we crested 2800m stands of Abies fansipanensis stood out, the trees forming a sparse flat-topped canopy.
From the cable car station we descended through bamboo thickets, a plant community resulting from degradation of the forest at the peak. We were able to make collections of forest remnants, including a number of Rhododendron species, Schefflera, Arisaema and some ferns. As we fell below 2800m the bamboo reduced in abundance and Rhododendron forest replaced it with giant specimens of R. sinofalconeri towering over our heads. The vegetation beneath dripped with filmy ferns and mosses and poking out of these were many species of Gesneriaceae (relatives of the African violet).
We camped in the field and returned to the summit the following day to follow the path out to Ton Station and Sapa. The coming two nights were to be spent at the mercy of hard wooden floors in shacks along the main path on Fansipan. As we descended the forest composition changed, with many opportunities to collect. Highlights included a range of Magnolia species, a couple of potentially new species of Rhododendron, some massive witch hazel relatives and many herbs and ferns.With our collecting bags and herbarium presses filled to bursting point and camera and GPS data nearly at its limit we arrived at Ton Station to head back into Sapa.
The coming day was spent processing all our finds and its associated data. However, never turning down an opportunity to collect, we headed back to Khoang village with Du to see if we could locate Aesculus wangii. Whilst the weather was very much against us, luck was in our corner. We hacked up a river valley, with sparse forest and cardamom and finally there they were, the familiar site of horse-chestnut fruits hanging from a number of trees. There massive size is a sight to behold and with 18 packaged in Andy's collecting bag we retreated to the hotel and a well earnt beer.
Heading north from Hanoi – 18 & 19 October 2016
I guess enjoying a morning bowl of pho (Vietnamese noodle soup) and watching the local news channel with a group of army personnel is not unusual at the Army Guest House Hotel in Hanoi but it was somewhat surreal for me. I was soon joined by the rest of the expedition party who were all set to head to Sa Pa in northern Vietnam after breakfast. A few coffee stops and 213 miles later we arrived in the the Bac Ky region. The journey had all of us excited by the flora we saw before us, from the exotic agriculture to the towering trees and palms. It was however the flora of the Hoang Lien Son mountain range which was of interest to us, so we were all happy to arrive at the Mountaineer Hotel.
After a quick look around the town and the local market we all met back at the hotel where a gentleman named Uoc started detailing some of the trails and plants we were likely to see. At first, I was somewhat confused because earlier in the day Uoc was the hotel owner, now he was conversing with ease about the plants of the region. It later transpired that not only was Uoc the owner of the hotel but a keen amateur botanist too. The meeting concluded with a slide show featuring many of the plants that Uoc had encountered whilst out botanising and a plan of action for the following day.
Xa Ban Khoang
After heading next door from the hotel for another delicious bowl of pho, we jumped in the van and headed for Xa Ban Khoang. During the journey I should of been paying more attention to our driver as he negotiated a narrow and winding road up the mountainside but it was hard not to be distracted by the dramatic landscapes all around us. When we reached our destination, which was a small farm growing gourds, we all jumped out of the van in high spirits. The hope was that in this area was Aesculus wangii, a species of horse chestnut which is only known from limited populations and is vulnerable to extinction (1). It was hoped that if a sufficient number of seeds were found from the species that the botanic gardens involved in the expedition could help in its conservation by establishing an ex situ conservation programme in the UK and Hanoi. As we started our journey with A. wangii in our thoughts, we of course came across a varied range of plants. Amongst the ever present cardamom and bamboo were many herbs and trees. At one point while I was marvelling at a raspberry (Rubus sp.) with striking maroon colouration on its leaf, I turned around to see Richard scaling a Rehderodendron sp. (at an impressive speed) to gather the large seeds. By this point the plant collecting and surveying had started in earnest. I could go on to list all of the specimens we collected but in the interest of brevity, I have included three of my personal highlights below:
Aspleniaceae
As a representative of Glasgow Botanic Gardens, I am always looking for specimens which are prioritised in our collections. Richard spotted a large fern which he thought may be a Cyathea, but on a closer inspection it was something else. The sori along the veins and clathrate scales indicated it was in the Aspleniaceae family and the black stipe and sizeable fronds suggested it would make a fine garden specimen.
Orchids
Although it is not in our remit to collect orchids, it is exciting to see them in their natural habitat. Many of the orchids we see in our homes and local botanic gardens are cultivated beautifully but there is no better way to appreciate and understand them than seeing orchids growing on a tree in their native forests. I can't wait to get back to show some of the photographs to Christine, our orchid specialist in Glasgow.
Maples
Sometimes plants can show us how small the world really is. I have seen species of Acer with their distinctive key-shaped seeds growing in the wild in North America, Europe and now Southeast Asia. Although it is autumn in Vietnam, many of the species we saw did not exhibit the vibrant colours we normally associate with maples at this time of year. They did however impress in other ways with their formidable size and interesting leaf shapes.
After 63 successful collections and climbing 2,000 m, we were unable to find the elusive Aesculus wangii. I personally hope that it was due to its ability to camouflage itself well in the forest rather than further reductions to its populations. Our expedition is far from over however and I am sure it won't be the last time we go looking for the species. A. wangii will have to wait however, our next trip is to Fansipan.
By Will Ritchie
(1) Aesculus wangii – The IUCN Red List of Threatened Species. Retrieved October 23, 2016, from http://www.iucnredlist.org/details/32381/0
Arriving in Hanoi – 17 October 2016
Chao Ban! This kicks off a series of blogs from northern Vietnam, following a collaborative 3 week expedition between 4 UK botanic gardens (RBGE, Kew, Glasgow and Cambridge University) and the Institute of ecology and Biological Resources (IEBR), Hanoi. Over the coming weeks we will complete 4 extended trips into the Hoang Lien Mountain region to collect plant material and record the flora along altitudinal gradients. Subtropical evergreen forests on the lower slopes will be replaced by temperate and montane forests as we climb to altitudes exceeding 3000 metres.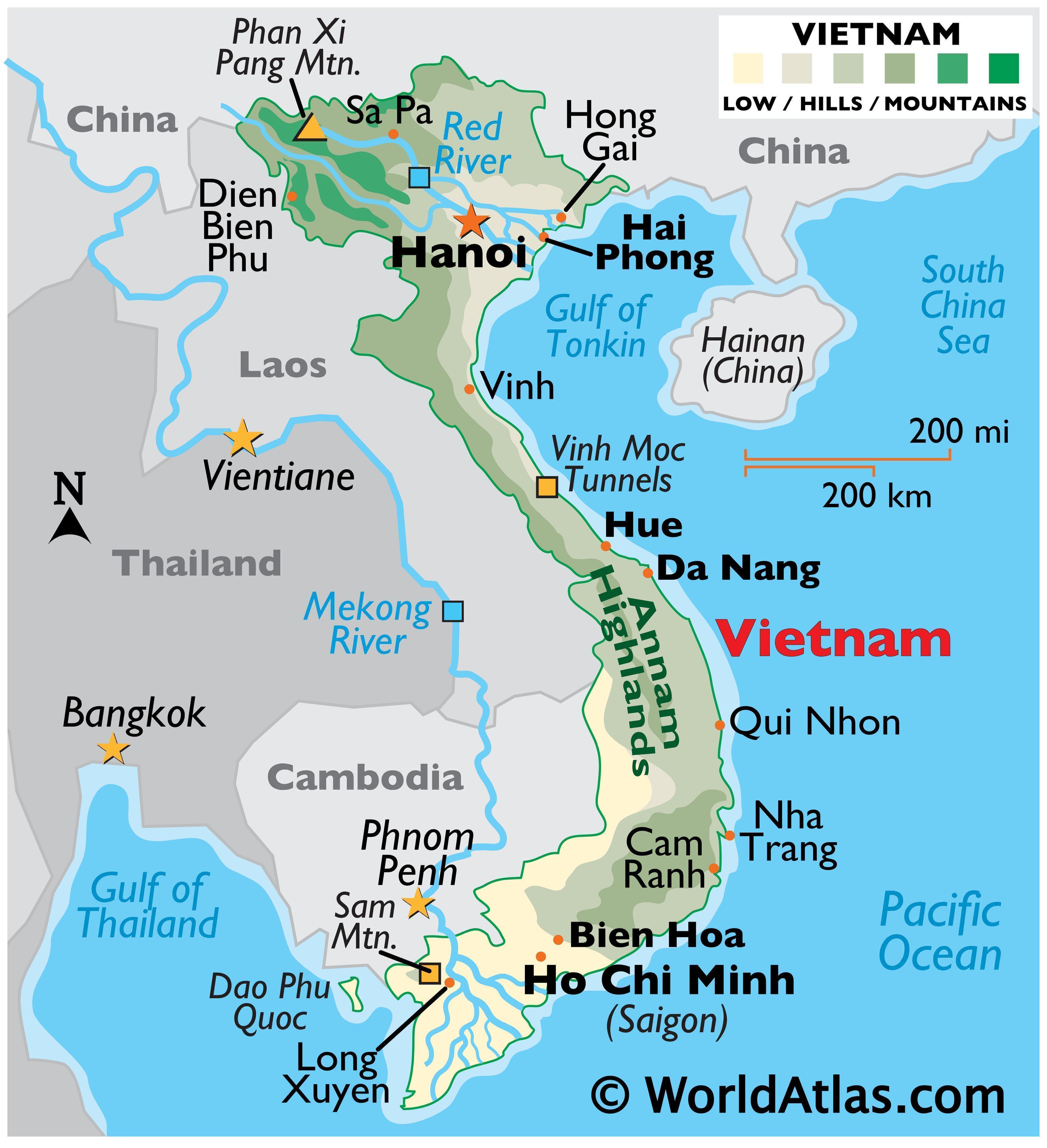 worldatlas.com
After a year of planning we have finally touched down in Hanoi. We started with a meet and greet with our partner Du and his colleagues at the IEBR. We travelled out to the Me Linh Research Station, 50km from Hanoi. This is sited in hilly country to provide altitude to allow a range of endangered species in the northern region of Vietnam to be cultivated ex-situ. This will include species from genera such as Magnolia and Rhododendron. Some of our seed collections may even end up here!
Our last task before we head out to Sapa tomorrow is to check all our kit, everything from testing the GPSs to making sure we have ample pencils to take down notes fr each collection. Continue to follow us on Botanic Stories and via Twitter, Instagram and Facebook, and the plants we find along the way.
By Alex Summers